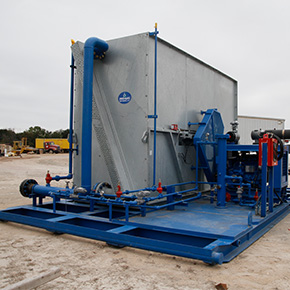 Posted on: 10. 10. 17
If you are in the resource mining industry, or oil and gas industry, then you understand the importance of knowing the functions involved with different types of natural gas coolers at your facility. The natural gas cooler is a huge topic in this industry right now.
Process coolers are heat exchangers that are used to reduce gas and liquid well stream temperatures in gathered resources. The reduction in temperature allows for further processing from a facility and helping them to meet pipeline specifications.
Po-Gas carries gas coolers in two sizes, the EH-60 Cooler, and the EH-108. Each of our coolers are equipped with the industry standard features necessary for using a natural gas cooler at your natural gas production facility.
What is a Natural Gas Cooler?
Gas coolers are a part of a typical fuel system on many non-electronic engines in facility equipment. Gas Coolers function is to cool the heated fuel return flow and realize the purpose of why excess heat needs to be removed from a system.
How Do Gas Coolers Work?
Gas coolers receive gas streams for cooling and they then flow through tubes that helps lower the temperature of the liquids or gases. From there, air is blown over the tube to further impact the cooling process of the valuable resources.
Our Pro-Gas coolers' outlet temperatures are controlled by louvers that are adjustable. The flexibility of these louvers allows for facilities operating our equipment to gain the desired outlet temperature.
EH-60 Cooler Package
Pro-Gas Services, LLC is proud to say that both of our natural gas coolers are skid mounted and create and easy, cost-effective deployment and removal when the job is complete.
Our premiere EH-60 Cooler package comes with the EH-60 Cooler that is designed to handle up to 5 MMSCFD. Our skid design allows it to be installed quickly and on short notice. This way your facility can use the equipment when it is actually needed.
In order to ensure that your facility can get its equipment delivered on time, the EH-60 is designed in a condensed size for economic delivery to sites. It is also a gas cooler that is prepared to meet your wellhead cooling needs via engine and electric drive coolers built into its system.
EH-108 Cooler Package
For larger natural gas cooling applications, your facility is best suited to work with our EH-108 cooler package. This package is able to work with large amounts of gas and liquids alike, making it a diverse piece of equipment for a production facility. Much like the EH-60, it is skid mounted and has engine and electric drive coolers to meet a larger capacity of wellhead cooling necessities.
Get Your Gas Cooling Equipment from Pro-Gas Services, LLC
If you are an operator of a production facility that specializes in obtaining natural gas and liquids, contact Pro-Gas Services, LLC today. We have over 90 years of experience in the industry and are available to answer any questions that you may have regarding our services. Get in touch with us and find out how we can provide impeccable problem solving services and maximize wellhead revenues for you.