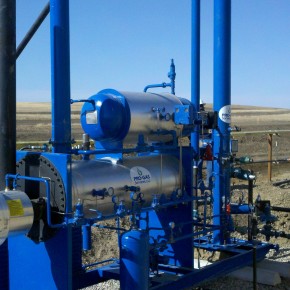 Pro-Gas Services Offers a Variety of Production Facility Equipment
When it comes to finding the right equipment for your production facility, Pro-Gas Services is proud to provide a wide range of high-quality equipment for oil and gas production facilities
Oil and Gas Production Separators and Filters
When your facility needs to separate a well stream into a gas or liquid component, Pro-Gas Services can help you achieve your goal.  Separators in our industry have three configurations that are available in two phase and three phase units; let us help you find the right equipment for your facility.
Pro-Gas Services also provides facilities with separator filters.
Natural Gas Dehydration Units
Most natural gas facilities use Triethylene glycol (TEG) to remove water from natural gas streams in order to meet the pipeline quality standards. This is done in order to prevent hydrates formation at low temperatures or corrosion problems.  By reducing the temperature at which vapor condenses, dehydration can be accomplished, avoiding any hang-ups with your production speed and quality.
B-TEX Eliminator Systems
Make use of a B-TEX Eliminator System to capture benzene, toluene, ethylbenzene, and xylene (B-TEX) from the still column of TEG regenerators.  Reduce your gas production facility operating cost by recovering condensates and putting VOC vapors to use as burner fuel.
From Tanks to Filters, Pro-Gas Services has your Needs Met
With over 90 years of experience in the oil and gas industry, Dallas-based, Pro-Gas Services can get you the tools that you need to successfully manage your production facility.  We provide portable tanks to cover your NGL holding requirements up to 18,000 gallons.  Our services span across the board from industry standard tanks to compression packages.  Our equipment is easy to install and is the solution to getting your production facility on-track.
Contact us today to learn more about the numerous equipment options that Pro-Gas Services offers to Dallas oil and gas industry leaders.