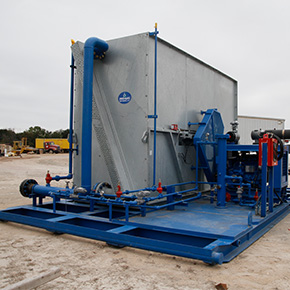 All About Pro-Gas Coolers
Pro-Gas Services, LLC stocks an inventory of gas coolers to facilitate cooling of your natural gas stream, whether at the wellhead or off on your gathering system.  All Pro-Gas coolers are skid mounted for easy and cost effective deployment and removal at the end of the job.  All coolers are rated at 1,440 MAOP with Cat engine drivers.
The Pro-Gas coolers are stocked in two sizes, the EH-60 (60-inch blades) and the EH-108 (108-inch blades).  Every potential project is simulated to insure you are receiving the correct equipment to perform the job desired, as well as predicting the amount of any hydrocarbon and water fall-out downstream of the cooler based on the actual gas analysis of the job.
Pro-Gas coolers receive gas or liquid streams for cooling and flow through tubes to lower the temperature.  Air is blown over the tubes with blades driven by a natural gas engine to affect the cooling process.  The outlet temperature is controlled by adjustable louvers to achieve the desired outlet temperature.
Types Of Gas Coolers
With two gas cooler sizes available and all of the standard features you need, Pro-Gas coolers are able to eliminate the negative operating effects of high gas and liquid temperature.  To learn more about Pro-Gas coolers or to receive a simulation at your specific operating conditions and to receive a quote, call us at (979) 764-5330
Pro-Gas Services provides two types of coolers:
EH-60 Cooler, designed for up to 5 MMSCFD.
EH-108 Cooler, designed for up to 20 MMSCFD.
EH-60 cooler package:
Designed for quick installations.
Condensed size for economic deliveries.
Offers engine and electric drive coolers, as well as ambient coolers, to meet your wellhead cooling needs.
EH-108 cooler package:
Handles large cooling applications for gas as well as liquids.
Offers engine and electric drive coolers, as well as ambient coolers, to meet your larger capacity wellhead cooling needs.
---
---