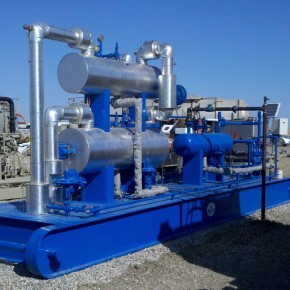 When it comes to your current Fuel Gas Conditioning, do you constantly deal with manpower issues or down time due to rich gas? How about loss of revenue due to poor engine performance or premature engine overhauls?
If these are problem you know all too well, here is your solution: The Pro-Gas Fuel Gas Conditioner Skid.
How A Pro-Gas Fuel Gas Conditioning Skid Works
A conventional fuel gas conditioning system take raw, high-pressure gas through a JT valve to provide lean fuel gas to maximize natural gas liquids vapor recovery. Using gas-to-gas and gas-to-liquids exchangers, our high efficiency fuel-conditioning skid helps you achieve lower temperatures than conventional Joules Thompson skid units.
Pro-Gas Service has spent years engineering and designing our high performance skid mounted JT plants. Our industry proven low temperature Fuel Gas Conditioning Skid works to help you treat your fuel gas more efficiently.
Here's how our JT Skids can help you:
Maximize NGL recoveries by achieving temperatures as low as -50 degrees Fahrenheit.
Provide lower BTU fuel for wellhead and field operations.
Increase horsepower and decrease maintenance due to lowering the BTU.
Our fuel gas conditioning system also works as a Supply and Demand skid. This means the process amount of fuel gas will be dictated by the demand only. This also works to help you maximize revenue.
More Benefits of Pro-Gas Services JT Skids:
Skid mounted for easily mobilization and installation
Compact equipment layout-on single skid
1,440 psig MAOP
Supply to demand all pneumatic control system
High efficiency heat exchangers
Operationally friendly
Not Your Ordinary Fuel Gas Conditioning Skid
Don't think of our JT skid design as just any other fuel conditioner. Our Pro-Gas design also includes Hydrocarbon dew point conditioning, NGL extraction and Flare reduction
In addition to our standard, Pro-Gas Services skids are available in 500, 1,500, 3,000 MCFD capacities. If you need greater capacities, no problem. Just let us know.
Get Your Own Pro-Gas Fuel Conditioner Skid
If you're ready to learn how the Pro-Gas Fuel Gas Conditioning Skid can make your gas stream more profitable, contact us today.
*Greater capacities available upon request.