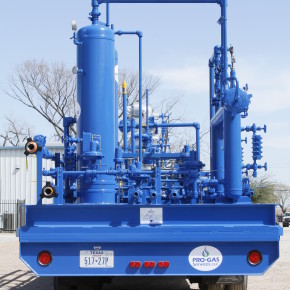 Bi-Fuel Gas Treatment with the Fuel Genie
Our 50F JT Skid is an excellent piece of equipment for engine duel-fuel applications. However, the JT Skid is not relatively portable.
If you want the same benefits of our proprietary JT Skid product in a portable design, our exclusive bi-fuel gas conditioner the Fuel Genie by Pro-Gas Services is available for use by your facility.
The Fuel Genie has all of the components needed to provide efficient gas treatment and supply a dry natural gas stream to your engines. Aside from the gas treatment benefits that the Fuel Genie provides to a facility, it is mounted on a goose neck trailer for easy and fast mobilization.
Two Fuel Genies to Fit Your Oil Field Requirements
Not only does the Fuel Genie work for drilling rig applications, but the product has been utilized for Frac Fleet and Gen Set applications, as well as any fuel conditioning job that requires frequent relocation of equipment.
With such versatility in the Fuel Genie and its design to meet oil field requirements, the Fuel Genie puts your facility a step above the competition with its availability in two models, the Fuel Genie 1 and Fuel Genie 2.
The amenities of the Fuel Genie 1 include:
32' Gooseneck Trailer
Inlet Separator
Filter Separator
ABB Total Flow Meter
NGL Accumulator
NGL Pump
Outlet Coalescing Separator
The Fuel Genie 2 has amenities that include:
32' Gooseneck Trailer
ABB Total Flow Meter
Get the Cleanest Fuel with Pro-Gas Fuel Genies
If your facility is eager to work with an economical bi-fuel gas treatment machine, look no further than Pro-Gas, LLC's Fuel Genie products. With the Fuel Genie you will be getting the cleanest fuel for your engines that above all things, is portable.
At Pro-Gas we strive to provide the best in problem solving strategies for our customers, while also providing environmentally friendly solutions to the industry. If you are in need of quality equipment that includes natural gas coolers, portable natural gas liquids storage, vapor recovery unit, and more, give us a call today and find out about the services and equipment we provide our clients.