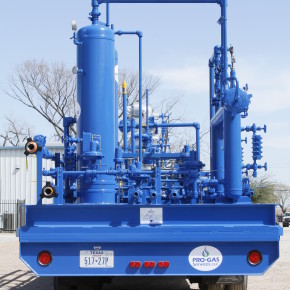 Bi-Fuel Gas Conditioner Provides Same Benefits as JT Skids
If you want the same benefits of our proprietary -50F JT Skid, but in a portable design for engine dual-fuel applications, our exclusive bi-fuel gas conditioner, the Fuel Genie by Pro-Gas Services is available.   All of the necessary equipment and components to supply a dry natural gas stream to your engines is mounted on a goose neck trailer for easy and fast mobilization from location to location.  In addition to drilling rig applications, Pro-Gas has utilized the Fuel Genie for Frac Fleet and Gen Set applications, as well as any fuel conditioning application that requires frequent relocation of the equipment.  The Fuel Genie set up has been designed to oil field requirements and is available in two models, the Fuel Genie 1 and Fuel Genie 2.
Fuel Genie 1 Amenities:
32' Gooseneck Trailer
Inlet Separator
Filter Separator
ABB Total Flow Meter (generally compatible with most SCADA systems)
NGL Pump (typically used to pump NGL's back to a gas pipeline)
Outlet Coalescing Separator
Fuel Genie 2 Amenities:
32' Gooseneck Trailer
ABB Total Flow Meter
Are you ready for the cleanest fuel for your engines?  Contact the Pro-Gas team to learn more about our economical bi-fuel treatment equipment, the Fuel Genie family.