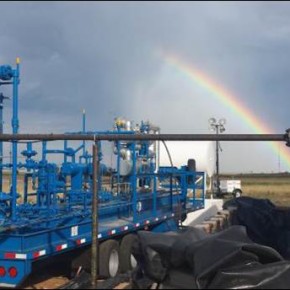 Posted by admin-progasllc 11. 02. 14 7:15 pm
Oil and gas equipment and service companies, like Pro-Gas, LLC, provide all the services, equipment, tools and maintenance necessary to keep the industry moving, expanding and become more efficient. While we may not be doing the dirty work out in the oil fields, our oil and gas field equipment help the hard working field workers on site. From helping the oilfield job duties runs smoother and more efficient to reducing hands on tasks and increasing job safety, Pro-Gas Services LLC., is dedicated to helping solve many well site problems.
Oil and Gas Equipment & Service Industry Structure
Like many industries within the economy, there are many contributors that take part in the process of manufacturing or delivering to achieve the end use products and services that eventually get out to the consumer market. From equipment manufacturers and suppliers to equipment renters to service providers, there are many activities associated in the oil and gas equipment and services industry. With the high demand for oil, especially since the United States is working toward becoming energy independent, there are many companies within the industry that are involved in at least one or more of the activities relating to oil and gas services and equipment.
Manufacturers and suppliers of equipment – Out in the oilfields, in the refineries and in the storage and shipment process, producers of oil and gas require many different types of equipment to get the oil out of the ground and get it out to the consumers. The initial equipment begins with drilling machinery and many attachments that must be replaced and serviced regularly; then after some of the initial drilling steps follows steps that require equipment for vapor recovery, fuel gas conditioning, gas coolers and storage equipment. Due to the structure of the industry and all the steps involved, from pipes and hoses to JT Skids and Vapor Recovery Compression Units, there are oil and gas equipment manufacturers and suppliers for every piece of the puzzle.
Equipment Renters – For short run jobs at a temporary location or for a producer that cannot justify owning a certain piece of equipment because they won't need it often enough, equipment renters own equipment specifically to rent it out for temporary use. This normally takes place for onshore and offshore drilling rigs, and can also include certain equipment that isn't needed very often.
Oil and gas service providers – Service providers are the ones that do the things that keep the oil and gas industry moving. Oil and gas services can range from all types of services like hydraulic fracturing, on-site waste disposal, compression packages, or oil and gas equipment maintenance services.
Pro-Gas Services Meeting the Oil and Gas Industry Needs
At Pro-Gas Services, LLC, we are involved with the main activities in the oil and gas equipment and service industry. We supply necessary equipment that contributes to major steps in fuel production, but we also maintain our equipment in a timely and efficient manner to ensure maximum run-time reliability, and we stress run-time and communication from our technicians. Contact Pro-Gas Services, LLC for your oil and gas equipment and services, we'll treat your well like it's one of our own!